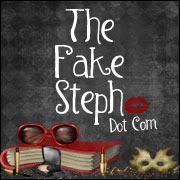 About The Fake Steph Dot Com
The Fake Steph Dot Com is a blog dedicated to stories. While my focus has always been books, my content may include posts about screenplays, television, movies, graphic novels, fashion, or my personal life. Please let me know which
features
you enjoy.
About FakeSteph
On the internet, everyone is trying to prove who they are, that they are
real
. But really, like in real life, we can be whoever we want. I can create the Steph I want to be and represent her on this blog. And yes, I always thought the Steph I wanted to be was a little bit cooler.
More on me:
Twitter: @fakesteph
Goodreads
Tumblr
(and if you have questions, anonymously ask me
here
).
Polyvore
Pinterest
E-mail me at RealSteph at thefakesteph dot com.
Yes, like many book bloggers, I write. Sometimes I blog about it, but this blog never felt like the right place for those posts. Maybe one day it will be, because I hate having two blogs. But for an occasionally updated personal/writing blog, you can check out
The Real Steph
.
2013
Reading Goals:
Library books: 24
E-books: 24 (over drive books count for both categories)
graphic novels: 12
TBR pile: 12
2013 releases: 18
Non-fiction: 2
-Catch up on the Stephanie Plum and Song of Fire and Ice series.
-Read outside my comfort zone at least once every three months.
2013
Blog Goals:
1. Attend BEA 2013.
2. Blog every day this year.
3. Be consistent with my features and posting schedule.
I elaborate on my goals a little bit in this post.